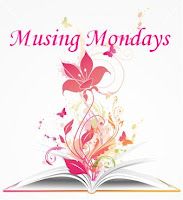 Hosted by Miz B at Should Be Reading
Today's question:
Do you tend to read to the end of a chapter or can you stop anywhere?
My answer:
I usually read to the end of a chapter, however, if something interrupts me, I have to stop where ever I am.  When that happens, I do find myself having to go back a page or 2 and reread to refresh my memory.
May is being hosted by Martha's Bookshelf
Mailbox Monday was created by Marcia of A girl and her books and is now on tour.
According to Marcia, "Mailbox Monday is the gathering place for readers to share the books that came into
their house last week. Warning: Mailbox Monday can lead to envy, toppling TBR piles and humongous wish
lists."
The following books were received during the past 2 weeks due to being on vacation:
               WOW          Personal d/l    Simon & Schuster
The Hachette Book Group
                 The Hachette Book Group      Win-Booking With Bingo