My good friend Gina, from Hott Books, recently interviewed me and today she posted it on her site.  It was an honor to be asked .  Let me tell you a little about Gina,  she has a huge, caring heart.  A great Mom!!   Even though we have not met face to face,  we have become close friends via the internet.  If you haven't visited her blog, (btw she designed it), take a look around, read her interview, say hi, and once you see what you have been missing, become a follower.  I'm headed there now.  Hope to see you there too.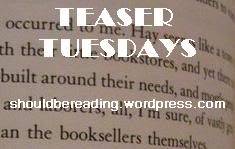 Hosted by Miz B at Should Be Reading 
Teaser Tuesdays is a weekly bookish meme, hosted by MizB of Should Be Reading. Anyone can play along! Just do the following:
*Grab your current read
*Open to a random page
*Share two (2) "teaser" sentences from somewhere on that page
*BE CAREFUL NOT TO INCLUDE SPOILERS! (make sure that what you share doesn't give too much away! You don't want to ruin the book for others!)
*Share the title & author, too, so that other TT participants can add the book to their TBR Lists if they like your teasers!
Arianna gasped slowly for air.   She didn't cry.   The pain she felt in her side wasn't bad enough to give her husband the satisfaction.
"When I say it is time to leave, it is time to leave.   There is no room for negotiation in this marriage."
Kindle 5%
Progress:  
Pitiful…just pitiful.  Whenever I sign up for a Read-A-Thon, I just can't seem to accomplish my goal and that is to read.  Yesterday I worked at the computer, thinking I would get a lot of items taken care of, then get snuggly in the recliner in my recliner and read.  Good plan, right?  WRONG.  For some reason, yesterday I was in slow-mo, got hardly anything done, kept getting interrupted by phone calls,  real life chores, etc and only got a whopping 2 hours of reading time in.
Today my goal is the same except that I will be off the computer by noon, even if my work is not completed and will start reading.  And oh yes…I just may be screening my calls  lol.