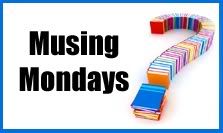 Hosted by Miz B at Should Be Reading 
Today's question:
What devices –if any– do you read books on? Do you find it enjoyable, or still somewhat bothersome? Or: If you only read the print books, why haven't you chosen to read on any devices?
My answer:
I have 2 devices, a Kindle and a Sony EReader.   I find both to have pros and cons.  I like the Sony because of the touch screen but it doesn't have an archive feature and "the Sony Store" sometimes doesn't have all the books available and isn't wi-fi.  The Kindle is easier to read on, but doesn't have the touch screen, I can archive the books I have read and is wi-fi.  Both are easier to fit into a pocketbook than a print version.  But then I still need to be surrounded by my Print versions and need to use all the senses when reading a Print book.  I find I need to alternate between a digital read and a Print.
What about you?  Have you taken the plunge yet into the digital age of reading?
January is being hosted by At Home with Books
Mailbox Monday was created by Marcia of A girl and her books and is now on tour.
According to Marcia, "Mailbox Monday is the gathering place for readers to share the books that came into their house last week. Warning: Mailbox Monday can lead to envy, toppling TBR piles and humongous wish lists."
                                    The Story Plant                    Author
                               Meryl L. Moss Media             Author
And purchased by me since I am computer challenged………